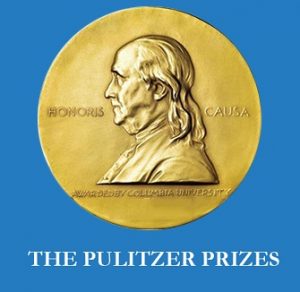 In every field of human endeavor, awards and prizes are often the yardsticks by which we measure success and achievement. Inserting "Nobel Laureate," "Academy Award winner," or "Pulitzer Prize-winning," before an individual's name brings prestige and credibility to the person so honored. But over a period of years, the validity of such awards and prizes has declined sharply. Efforts by those making such awards have been tainted by overt politicization and worse, by an effort to follow the trends of the ghastly, ubiquitous pop culture. Those who challenge such attitudes are likely to be unfairly vilified and even demonized. Usually, critics and self-proclaimed members of the intelligentsia think such criticism is an effort to denigrate the award-winners. But in reality, the cultural importance of the award-winners isn't magnified; instead, the value and significance of the awards and integrity and judgment of those presenting the awards and prizes are greatly diminished.
The 2018 Pulitzer Prize for Music has been awarded to Kendrick Lamar for his rap recording, "Damn." This award has generated praise among some, but outrage among others. I stand with the latter. To understand why it may be helpful to take a brief look back at what has happened to awards in recent years.
                There was a time when the Academy Awards for music were given to nominees who wrote splendid film scores. Musical colleagues might disagree as to who should win, but there was agreement that certain standards could be used to judge film scores.  Much of this comity collapsed in the pop revolution of the 1960s and 70s.
                By 2008, the Los Angeles Times was providing an example of the taste which governs the Oscars by approvingly declaring, "In 1971, when Shaft was all the rage, Isaac Hayes' funky title tune won the best song at the Oscars shaking up the movie industry. Isaac Hayes' theme song to the hit detective flick was the "It's Hard Out Here for a Pimp" ("Hustle & Flow") of its day—in short, that kind of 'tude-heavy, soul-powered hip urban tune you don't expect to win the top golden prize bestowed by the hoity-toity Hollywood crowd."
                But everyone wasn't pleased with the pop-score revolution in Hollywood.                        
                 When Isaac Hayes was nominated for the "Best Dramatic Score" Oscar for his theme song from the film Shaft and won the "Best Score" Golden Globe award the same year, distinguished pianist and composer for films and television Harry Sukman quipped, "What score?"
                Sukman's observation was inspired by the realization that award presenters in Hollywood couldn't tell the difference between a song and a score. This was true in 1963 when Henry Mancini's "Moon River," a fine song, led to Mancini winning the "Best Score" award for Breakfast at Tiffany's over Miklos Rozsa's dazzling score for El Cid.  When the Board of Governors of the Academy of Motion Picture Arts and Sciences decided to combine the awards into a single honor, composers of dramatic background scores were forced into competition with composers of popular songs written for Hollywood musicals. Ten composers, including Miklos Rozsa, Bronislaw Kaper, and André  Previn, resigned their memberships in the Academy in protest. Bernard Herrmann went further, returning his torn-up membership card to the Academy with a declaration that he preferred to be judged by his peers, not his inferiors.
                The Grammy Awards followed a similar trend, culminating in 2010 with the nomination of C-Lo Green for a "Best Recording," award. The title of  Green's recording could not be spoken out loud during a television broadcast for fear of running afoul of the obscenity regulations. Green's performance demonstrated what the recording industry now considered an outstanding lyric:" I see you driving around with the girl I love and I'm like F*** You. I guess the change in my pocket wasn't enough. I'm like F*** You and F*** Her Too." In the mind of the Awards presenters, the lyrics of such brilliant craftsmen as Oscar Hammerstein II, Lorenz Hart, Cole Porter, Ira Gershwin, Alan Jay Lerner, and Johnny Mercer, among others, have been consigned to the ash heap of history by a "composition" littered with assorted profanities and racial epithets.
                The Nobel Prize, widely perceived as the most prestigious such award, does not honor musicians, but Nobel Prizes are given for Peace and Literature as well as the sciences. Barack Obama's 2009 Nobel Prize for Peace was awarded not for what he had done, but for what the Norwegian Nobel Institute thought he might do.  Former Secretary of the Institute, and by the way, an amiable guest on my television program, Mark! My Words,  Geir Lundestad later admitted that the award in advance of achievement was a mistake, but those who determine the award recipients thought it might strengthen him. Attorney and law professor Jonathan Turley observed," It is a maddening admission that the committee bypassed a list of worthy candidates with proven contributions to humanity to give a boost to someone that the Committee simply liked. That would seem grossly unethical, but Lundestad merely acknowledged that it did not seem to work."
                As for pop star Bob Dylan winning the Nobel Prize for Literature, Kyle Smith, writing in Acculturated, commented that "The Nobel Prize for Literature, once awarded to such household names as George Bernard Shaw, Pearl Buck, John Steinbeck and Saul Bellow, long ago devolved into obscurantist gesturing and signaling of radical bona fides."  Ernest Hemingway, another Nobel Laureate, reacted to his prize for literature by emphatically stating, "No writer who knows the great writers who did not receive the Prize can accept it other than with humility. There is no need to list these writers. Everyone here may make his own list according to his knowledge and his conscience." So we now have the journey from Winston Churchill (who won the prize for literature) to Bob Dylan touted as progress.
                The devolution of awards from meaningful to meaningless has infected nearly every human activity.  Children participating in sports are given participation trophies so "everyone wins" and "no one loses." The children aren't fooled by this nonsense; they know who is best and instinctively realize that if everyone is a winner, no one is. Schools and colleges are now considering abolishing the role of valedictorian so that students not invited to speak at graduation won't have their feelings hurt. As a former valedictorian, I can attest to the pressure to achieve a goal and be the best. But real life isn't always fair. The entertainment industry certainly isn't a meritocracy.  Iconic football coach Vince Lombardi, often misquoted, told his players that "Making the effort to win is everything." Eliminating standards of excellence doesn't help those who don't achieve, especially in preparing them for a commercial world in which profit and politics usually trump excellence.
                This brings us to Kendrick Lamar and his 2018 Pulitzer Prize for Music. This is by far the worst example of the cultural decline in the presentation of awards.  Beginning with William Schuman's prize in 1943, the Pulitzer music award was given to a widely diverse group of composers for many different genres of works created in many styles. Awards were given for symphonies, operas, ballets, chamber music, even a film score (Virgil Thomson for Louisiana Story.) The names of the winners are among the giants of contemporary classical concert music, including Howard Hanson, Aaron Copland, Leo Sowerby, Charles Ives, Gian-Carlo Menotti, Douglas Moore, Ernst Toch, Samuel Barber, Roger Sessions, Morton Gould,  and Leon Kirchner.  Of course, there has been controversy. In 1965, the Pulitzer Prize advisory board rejected efforts to confer a special award on Duke Ellington. The official reason was that the award was supposed to be for one work, not a lifetime of achievement. Ellington's identity as a jazz icon may have also been a factor.  Ellington handled the rejection with grace and style. Eventually, the Pulitzer was awarded to people with jazz credentials, including Wynton Marsalis and Ornette Coleman.
                But the award to rapper Kendrick Lamar represents a sea-shift as the first such prize for a non-classical or jazz work. I would argue that it makes the Pulitzer Prize for Music irrelevant, politicized, and a vestigial absurdity that is now a colossal embarrassment to the pretentious, pseudo-intellectuals who award it. In a self-congratulatory, virtue-signaling, and vainglorious declaration, the administrator of the prizes, New York Times journalist Dana Canedy, proclaimed, "The time was right. We are very proud of this selection. It means that the jury and the board judging system worked as it's supposed to—the best work was awarded a Pulitzer Prize. It shines a light on hip-hop in a completely different way. This is a big moment for hip-hop music and a big moment for the Pulitzers." With the humility and hubris expected from rock-pop-rap promoters in the recording industry, Terrence Henderson, described in the New York Times as a record executive known as Punch from Top Dawg Entertainment, wrote that from now on, no one should "speak with anything less than respect in your mouth for Kendrick Lamar."
                Well, Mr. Henderson, get ready for a few words that you may assume are disrespectful. The Pulitzer Prize board, voting unanimously for Kendrick Lamar, described his album, which has sold over three million copies, as "A virtuosic song collection unified by its vernacular authenticity and rhythmic dynamism that offers affecting vignettes capturing the complexity of modern African-American life." The lyrics of Kendrick Lamar are, like so much rap, laced with profanities and racial slurs. So I respond to you, to the Pulitzer board, and to Kendrick Lamar himself with a word that may shock you. Let's call it the "B" word-BALDERDASH!
                The fourteen track album contains contributions by stars Rihanna and U2. There are no melodies worthy of praise, but the so-called lyrics are highly politicized, with politically correct attacks on Donald Trump and Fox News. Kendrick Lamar's so-called lyrics are simplistic and reflect the type of inane doggerel that could be produced by any teenager on any high school campus. Here is a sample from a selection called "Lust."  
"We all woke up, tryna tune to the daily news
Lookin' for confirmation, hopin' election wasn't true
All of us worried, all of us buried and the feeling's deep
None of us married to his proposal, make us feel cheap
Stealed and sad, distraught and mad, tell the neighbor 'bout it
And is this the best the world of music has to offer?
                In the interest of candor, I make the following disclosure. I am a composer and pianist; I have interviewed winners of the Nobel and Pulitzer Prizes and have eminent teachers, friends, and colleagues who may never have won the prizes they deserved.  But with the success of Lin-Manuel Miranda's hip-hop musical Hamilton and now the hip-hop Pulitzer, rap, like rock before it, is now all music. Other genres of music can expect the same type of displacement that occurred when the rockers of the 60s and 70s assumed control of and ultimately destroyed the market for anything that couldn't sell a million recordings.
                It does not require skill, talent, or ability to fill lyrics with profanities, slurs, and bad rhymes, or to accompany this twaddle with over-amplified, pulsating noises that appeal to an audience which glories in its own ignorance of real music.  It does require a certain cunning to wrap such offerings in political statements that ensure an endorsement from those who seek to be "with it," never defining what "is" is supposed to be. The acquiescence of elite cultural arbiters can only lead to the triumph of the vulgarians.
                Having made the observations, I stand ready to take the slings and arrows from those who are infuriated by statements of truth. As they ready their bows and quivers (and perhaps a few brass knuckles,) I know what to expect. Their responses are as predictable as a thunderstorm following a cloudy sky. They think their responses are original, but they are vapid clichés which have been uttered time and again. To save time, I offer the following responses in advance.
Because Kendrick Lamar is black and rap is perceived as the expression of African American culture, any criticism of him specifically or rap, in general, is likely to be described as racist. It is unfortunate that this discussion is even necessary. But in this time of identity politics, this puerile charge must be dismissed. The alternative is to cower before an effete mob of twitter bullies, a prospect I reject out of hand.
        As a long-time advocate of long-neglected musical figures, many of whom are African American, I remind rap's defenders that the black community is a diverse community of individuals who do not look, think, or act alike. Ask any rap fan or promoter what they know of Florence Price, the first African American woman to have a work performed by a symphony orchestra, or her pupil, Margaret Bonds, a distinguished pianist and composer in her own right. Ask them about William Levi Dawson. Ask them about the literary figures of the Harlem Renaissance. Ask them what they know about jazz, primarily African American in origin. Do they only know about Michael Jackson, proclaimed in the media as "The King of Pop," but not about Calvin Jackson, an often overlooked musical genius, or Donald Shirley, a brilliant musical figure with three doctorates who spoke eight languages?
          I assure you that they know little or nothing of the real heroes of African American cultural history. They are too busy making money and crying all the way to the bank.  Somewhere there is a young black composer dreaming of being another William Grant Still, an African American composer worthy of the respect Terrence Henderson demands for the latest winner of the Pulitzer Prize. Somewhere else there is a young man playing the saxophone and hoping one day to succeed Lester Young, Coleman Hawkins, Johnny Hodges, and Charlie Parker. What should these young musicians think about Kendrick Lamar? Should they continue to study and persevere when the rules of the game have suddenly been changed? 
                Not everyone has been quick to jump on the rap bandwagon. Wynton Marsalis was the first jazz musician to win the Pulitzer Prize for Blood on the Fields, a musical reflection on slavery. Marsalis has been a lifelong advocate for the music he writes and performs, jazz.  As for rap, he has been an outspoken critic of the entire hip-hop subculture since the 1980s.  "You can't have a pipeline of filth be your default position and not have it take a toll on society," he told Jonathan Capehart of The Washington Post on a podcast they did together.  It is a position he took early during the rise of rap and one which he steadfastly repeats today.
           Rap's defenders will quickly point to the Broadway show Hamilton and of course, Kendrick Lamar, to suggest that hip-hop expresses values beyond racial slurs and profanity. But a simple comparison between the creative output of rappers and musicians and lyricists of accomplishment in jazz and in Broadway's historic legacy yields an unflattering verdict.  The rappers, despite whatever prizes they win, aren't in the same league and they never will be.
Because Damn, reflects hatred toward Donald J. Trump, anyone criticizing it is likely to be accused of being just a Trump partisan. Though it may shock those cheering the Pulitzer fiasco, criticism of this award has nothing to do with political positions, but obviously, the award itself has everything to do with politics. Minimal political awareness suggests that Kendrick Lamar was given the prize for two reasons, neither of them having to do with the quality of his work, but both of which have everything to do with the people making the decision. Of course, giving the Pulitzer to someone preaching Trump hatred is supposed to legitimize Trump hatred. But of greater importance is that in its desire for ingratiation with the creators and promoters of rap, the Pulitzer board thinks it is proving that it is hip, trendy, fashionably diverse, and worthy of the praise of like-minded colleagues who secretly hope no one declares that the Emperor wears no clothes.
The Pulitzer board could have given the Prize for Music to someone who expressed views that were critical of Donald Trump or in praise of him, but with a manifestation of talent, musicality, literacy, and taste; Damn offers none of these qualities. Are we to seriously believe that a musical work with a similar paucity of musical virtues but an alternate political view would have been considered? Pulitzer Prizes for Music are supposed to be awarded for musical excellence, not the political view of a work's creator.
        In the 1950s, playwright Arthur Miller and director Elia Kazan were friends. They parted company forever over Kazan's decision to name names during the Congressional investigations of communism and internal security. Miller's play The Crucible, is widely perceived as an allegory for what he believed to be witch hunts; Kazan's film, On the Waterfront, is widely regarded as a defense of a man who has to turn in his friends to do what is right. Miller and Kazan were friends no more and their political views were totally opposite. But it would be hard to make the case that either Miller and Kazan didn't deserve acclaim for their artistic and literary skills, regardless of, not because of, their differing political views.
Critics of this award are likely to be accused to disdain for freedom of expression, although this is nonsense. The argument is stated in this manner: "This is a free country. I have the right to like whatever I like and who are you to criticize my taste?" This argument is just silly. Of course, anyone is free to like what he or she likes, but everyone else is free to observe the failings of their judgment. As William F. Buckley said, in response to the vacuous utterances of an opinionated Hollywood actress, "She has the absolute right to advertise her ignorance in public." The notion that no book, or work of art, or musical composition is better than another is just nonsense. It is the basis for cultural anarchy and ultimately, the replacement of civilization with the age of the ignoramus.

Wrapping themselves in anti-establishment rhetoric, advocates of this award will be quick to declare that criticism of rap is just bitterness from the establishment. At the risk of disillusioning Terrence Henderson and his friends, the rap promoters and the so-called artists they promote ARE the Establishment. There are no risks in the entertainment industry in promoting rock-rap-pop. Those of us who choose another path, who opt for the road less taken, are the ones taking risks. Composers of real music, whether classical or jazz, whether for films or musical theater, whether for the concert stage or not, face struggles throughout our lifetimes. Often this requires surmounting all kinds of financial, political, and artistic barriers. It is the upholder of tradition, the cultural conservationist who is challenging the utterly corrupt musical entertainment establishment.
                The Pulitzer Prize for music now has a new standard. It is the standard of Hollywood, the standards of profiteers, the standards that declare the most important requirement in art is a healthy balance sheet. Judge Robert Bork, though not a musician,  summed up the case regarding rap well. He wrote, in his book, Slouching Toward Gomorrah, "The difference between the music and Tin Pan Alley and rap is so stark that it is misleading to call them both music. Rock and rap are utterly impoverished by comparison with swing or jazz or any pre-World War II music, impoverished emotionally, aesthetically, and intellectually. Rap is simply unable to express tenderness, gentleness or love. Neither rock nor rap can begin to approach the complicated melodies of George Gershwin, Irving Berlin, or Cole Porter. Nor do their lyrics display any of the wit of Ira Gershwin, Porter, Fats Waller, or Johnny Mercer. The bands that play this music lack even a trace of the musicianship of the bands led by Benny Goodman, Duke Ellington, and many others of that era."
                So what do we say of the foul-mouthed stars of rap and their billionaire's industry that trivializes and demands the best of our culture while their promoters demand our respect? And what of the once prestigious Pulitzer Prize for music? Should those of us who write music aspire to awards that are given for the wrong reason and social-climbing gratification of their presenters? It will be said by all, the Terrence Hendersons of the world, that the Pulitzer Prize for music has elevated rap to a new respectability, to a new place in our culture. I disagree. The awarding of this prize doesn't elevate rap-rock-pop, it diminishes the award and those, including its presenters, who are busy sounding their own trumpet.
                The best expression of this sentiment may not come from high culture, but it is entirely accurate. It comes from one Benjamin Hapgood Burt in a song popularized by Frank Crumit and Rudy Vallee and heard on record, on radio, and in the music halls of another time. This is a brief excerpt from the lyrics of a song which didn't win the Pulitzer Prize for Music, but tells us something about it.
One evening last October, when I was far from sober
And dragging home a load with manly pride
My feet began to stutter and I fell down in the gutter
And a pig came up and parked right by my side.
Then I mumbled, "It's fair weather when good comrades get together"
Till a lady passing by was heard to say,
"You can tell a man that boozes by the playmates that he chooses."
Then the pig got up and slowly walked away.
            So much for the once honorable Pulitzer Prize in Music, RIP.
             A prize is known by the company it keeps.