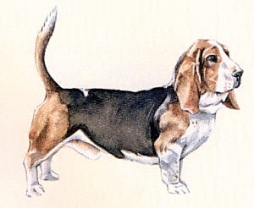 INTRODUCING BASSET BOOKS
Mark!My Words is published by Basset Books, the new publishing imprint of Cultural Conservation, a 501(c) 3 non-profit organization.
Basset Books has been established to publish books, audio, and video programs to make the public aware of the best of our past and present. Through books and multimedia, Basset Books will introduce music (classical and jazz) literature, theater, film, and the visual arts to a new and receptive audience.
The goal of Basset Books is to publish works of lasting value, to encourage a renaissance of language, and to establish a vigorous method of fostering a new awareness of American history and the arts.
INTRODUCING CULTURAL CONSERVATION
Cultural Conservation is a 501(c) 3 non-profit organization. Our 990PF filings are available upon request. One frequently asked question is this: because we're a non-profit organization, why do we charge for subscriptions to our site or for copies of the books we publish? All of the activities in which our foundation engages are related directly to our mission, helping families, especially parents and grandparents, to discover the best of our culture and be certain that they don't miss the opportunity to share the best of our culture in the Age of Trash Talk and MTV.
Everything we do as a multimedia publisher costs money and we have to pay the bills to achieve our ambition to grow from a little acorn to a tall oak tree. We try to charge the fairest prices we can. We have many exciting plans for multimedia publishing on the Internet, books, television and film production, and educational tools. So if you subscribe to our site or purchase one of our publications, you're not only helping us and helping your family. You're helping us advance the cause we all share: seeing that our best music, books, art, language, and history don't vanish in an avalanche of pop culture. We respect the best of the past which shouldn't be forgotten, the best of the present which shouldn't be ignored, and the best of the future which shouldn't be undiscovered.