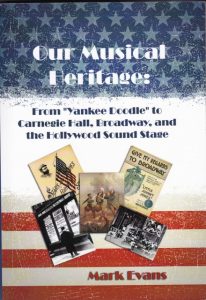 Our Musical Heritage: From "Yankee Doodle" to Carnegie Hall, Broadway, and the Hollywood Sound Stage
a new book by Dr. Mark Evans
Do you know the true story of American music?   `
America has a rich musical heritage, but it is in danger of falling into an undeserved oblivion. Classic music, jazz film scores, and the masterpieces of musical theater are an essential part of our history. Our Musical Heritage by Mark Evans explores America's musical past, provides a link to our musical present, and distils the essence of our nation's musical spirit from the music itself. From unsung heroes to the musical giants of the modern age, meet the composers, conductors, performers, and teachers who gave us an incredible legacy. Our Musical Heritage guides you on an exciting journey of discovery that can make the world of music part of your daily life.
Our Musical Heritage is the book that will introduce you, your children, and grandchildren to the real story of America's musical history, a lesson sadly ignored in most schools today.
Through Our Musical Heritage, you'll discover:
Our Musical Founding Fathers. Did you know that a composer actually signed the Declaration of Independence?

How and why The Star-Spangled Banner was written and why we still sing it today.

How John Philip Sousa wrote our national march and became forever known as The March King.

The American composer who was born in a log cabin on Lincoln' s Birthday in Lincoln County, Oklahoma and was inspired by Lincoln throughout his musical life.

How opera in America became grand.

How jazz evolved from roots in New Orleans and traveled to Chicago, Harlem, and around the world.

The self-taught church musician who single-handedly put music into American schools over huge protests.

The composers and lyricists who turned the Broadway musical into an art form.

How motion picture music preserved the tradition of melody in a cacophonous twentieth century.

The Irish bandmaster who led ensembles with a thousand musicians all playing together.

The President of the United States who threatened to punch a music critic in the nose.

How American composers struggled to find their own identity apart from the influences of Europeans.

Why many of the finest composers and conductors in our musical history remain unknown or forgotten.

Why America's first professor of music was greeted at Harvard with the slogan, "Music must be destroyed."

Why your family needs to help preserve America's true musical legacy.
American music is the result of the American melting pot, a vast and unique combination of influences from the people of many times and places. From the earliest days of our musical Foundation Fathers, music in the concert hall evolved and emerged through the energies of master composers, conductors, and instrumental and vocal performers. Jazz added its own special spark, the elements of swing and improvisation. American musical theater gave us a new form of dramatic entertainment embraced around the world and resulted in The Great American Song Book. film music became an art form on its own and preserved the element of musical lyricism at a time when many suggested that lyrical music would become extinct.
President Ronald Reagan famously said that freedom is never more than one generation from extinction. The same can be said about great music. In the abysmal 21st-century pop culture, we will lose our musical heritage if we do not actively seek to conserve it, preserve it, and pass it along from one generation to another.
Our Musical Heritage provides you with an opportunity to do all this and more for your family. The child today who discovers a beautiful string quartet, hears a great jazz solo, attends a brilliant performance of musical theater, or learns the difference between good and bad film music, may be taking the first step in a life that may help preserve, protect and defend our musical heritage and move it forward.
Our Musical Heritage isn't a typical textbook or a treatise of analysis. It's a personally guided tour through the four great genres of American music. It is filled with anecdotes and augmented by over 350 photographs, many rare and appearing for the first time. Author Mark Evans has been personally acquainted with many of the most distinguished musicians of our time. Those who love good music— music of the soul, the heart, and spirit, music of our history, music of our nation have inspired Our Musical Heritage. It is, rather a personal journey, the exploration of our musical past and a link to our musical present. It is a chance for us to learn together, to look not just at dates, places, and facts, but to distil the essence of our nation's musical spirit from the music itself.  You won't read a book like this one every day.
Our Musical Heritage is published by Basset Books and is available from Amazon.com, barnesandnoble.com, other online booksellers,  or can be ordered through your favorite bookstore.
For a review copy of Our Musical Heritage

To arrange a radio, television, or print interview with Mark

To invite Mark to speak to your organization about Our Musical Heritage and the goals of Cultural Conservation
CONTACT:
Ned Barnett, Barnett Marketing Communications
420 N. Nellis Blvd., A3-289
Las Vegas, NV 89110
702-561-1167