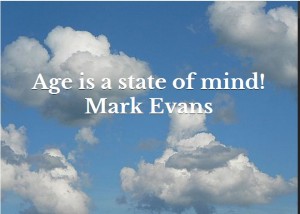 Is it ever too late to learn anything new? Are you ever too old to begin studying new subjects and exploring new ideas? Yes, suggests Ezekial Emanuel, a middle-aged physician who has written "Why I Hope to Die at 75," an article which appeared in The Atlantic. Dr. Emanuel's views matter because he isn't just any misguided medic. He was one of the principal designers of Obamacare ; no doctor had greater access to the ear of the President of the United States.
Dr. Emanuel's views matter for another reason. His outlook, negative, pessimistic, and defeatist, masquerades as well-intended advice for everyone. It is an outlook which is widely held in the medical profession by a huge assortment of doctors, nurses, self-proclaimed ethicists, and government bureaucrats.  They would agree that, in his words, those who live to long, "are no longer remembered as vibrant and engaged but as feeble, ineffectual, even pathetic."  So Ezekial Emanuel has a solution: cut back on attempts to prolong his life beyond the age of 75. He bolsters his argument with statistics: Nobel-prize winning scientists reach their peak at age 48; The elderly lose their mental agility and their creativity; alacrity is replaced by decline.
The views of Ezekial Emanuel are alarming because many of his friends and colleagues and the politicians who listen to him would like to impose this perspective on everyone through government fiat. But the purpose of my remarks here is not to engage in a political or medical debate. It is to address his over-generalized view of men and women of a certain age as a demographic group rather than as individuals. Having had considerable experience with family members, renowned teachers, and intriguing guests on my radio and television programs, I have one word for Dr. Emanuel– balderdash!
Classicist professor Victor Davis Hanson explains why Emanuel's remarks are so troubling. He writes, "  Emanuel takes the banal position that aging is more costly than youth, and then he takes it to a pathetic extreme, revealing his ignorance of both history and ethics. And while he is mostly talking .about his own plans, his past influence and his present desire to disseminate his views make it clear that he would like Americans to follow his advice that it would be wise for them to be dead at 75. "
Hanson reminds us of the great contributions to culture and civilization made by those in the later years of their lives. He continues, "Some of the most gripping volumes about World War II would never been written by a supposedly too old Winston Churchill. Had Ronald Reagan refused medical care and hoped to die at 75, the world would never have heard at Berlin, "Tear down this wall, Mr. Gorbachev."
The purpose of these remarks is not to engage in a political or medical debate, but to point out the fallacy of people who should know better taking a teenager's view of life: have your fun when you're young and then, like the characters in the science fiction film Logan's Run, accept the notion imposed by society that you're useless when you reach an arbitrary age determined by computers and self-declared experts. (In Logan's Run, the age of uselessness was thirty.)
 Consider a few of the incredibly creative people I've known who didn't believe in retirement. Albert Hirschfeld spent eight decade as the world's most memorable caricaturist. Known as "The Line King," he was still creating brilliant new theatrical caricatures for The New York Times when he passed away just short of his 100th birthday. The poet-laureate of radio, Norman Corwin, was admired as the literary idol of many of the world's most prominent writers. He wrote to me that he hoped his obituary would one day reveal that he had died at age 135, killed in a duel fought over a beautiful woman by a jealous rival. He indulged in this fanciful quip just short of his own 100th birthday. I recall interviewing the celebrated musical lexicographer Nicolas Slonimsky. The interview lasted late into the night and Mr. Slonimsky then spent two more hours sharing stories, memories, and outrageously mischievous anecdotes about several of friends who had been among my teachers. Approaching midnight and knowing that he was making a speech at the Library of Congress the next day, I suggested that perhaps the hour was late. "Of course we can stop," he said, with a twinkle in his eye, " if YOU'RE getting tired." He was ninety-six at the time.
Consider the history of music, art, and literature. Ezekiel Emanuel might be surprised by a few examples from my own book, "Mark! My Words."  Giuseppi Verdi wrote his operatic masterpiece Falstaff at seventy-four. Ralph Vaughan Williams composed actively until his death at eighty-six. Nonagenarian Havergal Brian was the British composer who said that he had no intention of dying because he just purchased a new pair of trousers. Pianists Artur Rubinstein and Vladimir Horowitz concertized into their eighties, cellist Pablo Casals into his nineties. The amazing Mieczyslaw Horszowski gave his last piano recital at ninety-nine and his last piano lesson at the Curtis Institute of Music at 101. Earl Wild was the first concert pianist to play a recital on television; decades later he was the first to play a recital over the Internet. He celebrated his ninetieth birthday with a recital played from memory at Carnegie Hall.
Then there was  Anna Mary Richardson. A farmer's wife in New York, at seventy-six she developed arthritis and was forced to give up embroidery.  Did she resign herself to a faltering old-age? Hardly. She took up painting, produced an incredible 600 canvases, and was as "Grandma Moses" acclaimed for her "American primitive art" and given an exhibition at the Museum of Modern Art.
Everyone is not blessed with creativity, imagination, or good health. But people are individuals and when the Ezekial Emanuels of the world try to arrogantly generalize regarding age, they indulge in the same offensive stereotyping they would criticize if such judgments were passed on groups of people classified by race or religion. Each of us has his own talents, opportunities, and potential. Dr. Emanuel teaches medical ethics at Princeton. He should take time out to read Late Bloomers by Brendan Gill, a small book filled with stories about everyone from Plato to Miguel de Cervantes to Harry Truman who achieved success and made valuable contributions to history late in their lives. Plato declared, "The spiritual eyesight improves as the physical eyesight declines." Cervantes observed, "You must live long to see much."
You do not have to write a great book, compose a fine symphony, or paint a brilliant picture to enjoy life at any age. It is never too late to begin exploring new worlds of creativity and imagination. Just beginning is an accomplishment in itself. I bear Dr. Emanuel no ill will. I hope he lives a long a healthy life. Perhaps at 100 he will achieve wisdom and look back at the intellectual folly of his middle age.