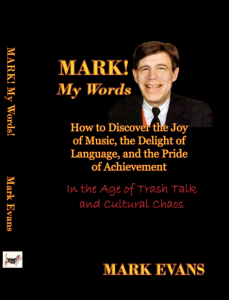 How to Discover the Joy of Music, the Delight of Language, and the Pride of Achievement In The Age of Trash Talk and Cultural Chaos, a new book by Dr. Mark Evans   Did you know that America is in the midst of a cultural crisis? In the age of cultural chaos,, classical music, jazz, film scores, and the masterpieces of musical theater are in danger of fading into an undeserved oblivion. Students are emerging from school unfamiliar with our nation's musical heritage. This crisis extends not only to music, but also to an ignorance of good books, art, theater, and films. This crisis is exacerbated by our vanishing history, a decline in language, and a pervasive celebrity culture. Educational institutions, government, and the entertainment industry should be part of the solution, but they are part of the problem. If this problem is not solved, our nation's cultural and artistic heritage will be irretrievably lost. "Mark! My Words" by Mark Evans is the first book to address the challenge of this crisis. In Mark! My Words, you will encounter:
True achievers in the arts who are ignored while we celebrate the accomplishments by geniuses of self-promotion.

Students who can't seem to read, write, or spell but have an abundance of self-esteem.

Teenagers who are mesmerized by pop culture and say they would rather be the assistant to a celebrity than president of a university or a successful business enterprise.

Composers of classical music who have turned music into mathematics and have lost their audience as a result, while great composers are dismissed and ridiculed by critics.

Promoters of rock, pop, and rap music that have corrupted our musical culture while crying all the way to the bank.

Lyricists whose illiterate and often obscene words have replaced the legacy of the inventors of American musical theater.

Modern artists who promote the credo "Art is what you can get away with."

Graduates of prestigious colleges who are who are unfamiliar with the great events of American history, have no idea why we celebrate George Washington's Birthday or sing "The Star Spangled Banner,"  and who can't tell the difference between the words of Thomas Jefferson and those of Karl Marx.

Bureaucrats and politicians who precipitate the decline of language in a sea of incomprehensible verbiage.

A document from the federal government which asked, "Have you or any members of your family ever committed suicide?"

Librarians who are busy taking our best books off  the shelves of their libraries.

Teachers who smile and nod while children make mistakes in reading.
You'll meet the artist who gained prestige and wealth by exhibiting a shark pickled in formaldehyde, the composer whose most famous "musical work" consists of silence, and the musical revolutionary who rose to prominence by burning a violin on stage. You'll find out why college professors and attorneys can't write a simple English sentence and why college English majors have stopped studying Shakespeare. You'll discover how our values and our culture are influenced and often manipulated by the media and how our dependence on technology has turned us into a nation of hares instead of tortoises. You'll observe the impact of the Internet on our lives as our daily actions depend on two devices named after a rodent and a fruit. You'll learn the answer to the two most popular questions regarding today's music, "Where's the melody?" and "Why can't you understand the words?"
Perhaps of greatest importance, you'll read a thorough explanation of why change and progress are not synonymous, as the author explains why "new and improved" often means a bigger box and fewer corn flakes. But Mark! My Words isn't just about our cultural problems; it also offers solutions to those problems.  You'll meet real heroes in Mark! My Words like the inner city teacher who changed the lives of her students by starting her own school and celebrate the achievements of composers, writers, and artists who have stood for integrity in an age of cultural confusion. The solution cannot be found in academia, government, or the entertainment industry. It can be found in our own energy, inspiration, and resolve. In the age of trash talk and cultural chaos,, the answer is Cultural Conservation. So Mark! My Words details what we can do as a society and what you can do as an individual to embark on an exciting journey of discovery that can truly impact your daily life. Together we can preserve the best of the past which shouldn't  be forgotten, the best of the present which shouldn't be ignored, and the best of the future which shouldn't be undiscovered. You won't read a book like this one every day. Mark! My Words is published by Basset Books and is available from Amazon.com, barnesandnoble.com, other online booksellers,  or can be ordered through your favorite book store.
For a review copy of Mark! My Words

To arrange a radio, television, or print interview with Mark

To invite Mark to speak to your organization about the book and the goals of Cultural Conservation
Ned Barnett, Barnett Marketing Communications
420 N. Nellis Blvd., A3-289
Las Vegas, NV 89110
702-561-1167