PLAYBOY AT THE PIANO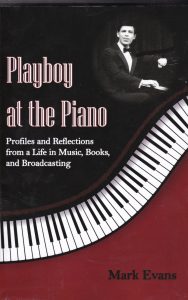 Dr. Mark Evans is a composer, conductor, pianist, organist, writer, and lyricist, with a background in music, books and broadcasting. In "Playboy at the Piano," he combines profiles and reflections regarding the remarkable people he has encountered as teachers, colleagues, mentors, friends, and guests on his popular radio and television program, "Mark! My Words."
His unlikely description as a playboy was provided by a strict British concert pianist and teacher who disapproved of his forays into the worlds of jazz, musical theater, and film scores. Included here is a treasure trove of anecdotes and dialogues with many of the world's most accomplished musicians, writers, artists, actors, and educators, combined with personal reminiscences about their impact on the author's life and career.
 In an era which often values celebrity over achievements, Playboy at the Piano focuses upon true achievers whose accomplishments should be of interest to people of all ages. "I can't choose one who most impressed me," says the author. "There are piano and violin virtuosos, great composers, brilliant writers, hilarious humorists, unforgettable actors, incredible artists and animators, and even a few gourmet chefs and a matador. But after you've worked with Donald Duck, it's all downhill from there."
 Part memoir, part anthology, Playboy at the Piano is filled with stories that reflect laughter, tears, amazement, courage, and inspiration from a raconteur who appreciates the extraordinary men and women who have wandered in and out of his life.