Our Musical Heritage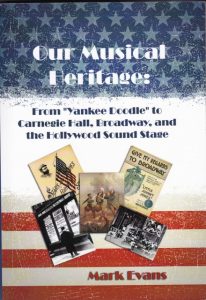 Have the members of your family learned to appreciate the best of American music or are they simply familiar with the vast musical wasteland promoted by the advocates of rock, rap, and pop? 
Our Musical Heritage: From "Yankee Doodle" to Carnegie Hall, Broadway, and the Hollywood Sound Stage, by Mark Evans, is the first major book to provide a resource to parents and grandparents enabling them to introduce their children and grandchildren to the best of American music. 
In Our Musical Heritage, you'll participate in a guided tour of American music with an emphasis on four important genres: concert works, jazz, musical theater, and motion picture scores. From our musical Founding Fathers to the pioneers of jazz, the Broadway musical, and the classic scores of Hollywood, you'll meet the men and women whose tremendous musical legacy is sadly neglected today. Many of these important figures and the music they wrote and performed have been sadly forgotten in the onslaught of today's ubiquitous pop culture. Others remain undiscovered.
You'll find out why we sing "The Star Spangled Banner," how "The Stars and Stripes Forever" became our national march, and how jazz musicians combined swing and improvisation to create a new art form. You'll discover The Great American Song Book, a canon of popular music with memorable melodies and lyrics that were positively poetic, and how film music evolved from the silent film era to the digital age. You have a rare chance to pass this legacy along to your children and grandchildren; they're not learning about it in school, but your entire family can add an exciting new element to daily living by discovering America's musical heritage in this remarkable book. 
Price includes U.S. shipping and applicable taxes.
For information regarding foreign shipping rates outside the U.S.A., please email us at info@culturalconservation.org 
Get Your Copy Now!
   $29.97 (softcover) 
   $39.97 (hardcover)